Monday, April 14, 2014
Here are a few of my top makeup products that you can get on any budget!
1. Best Eyeliner: Avon Ultra Luxury Eye Liner - $5
I personally love this eyeliner because it goes on smooth and dark. Many pencil eyeliners that I've tried just don't give the same effect as this Avon pick. I've been using it for multiple years and have no complaints! I get mine in black, but it comes in five different colors.
2. Best Eyeshadow: NYX Trio Palette - $5.79
This palette, called "Love in Rio" is the perfect eyeshadow for everyday use. You can keep it light and simple or you can add definition with the darker colors to contrast the light ones. Either way, NYX makes some really awesome eyeshadows, and this palette comes in many other colors!
3. Best Powder Foundation - Physician's Formula Mineral Wear Loose Talc-Free Powder - $11.58
Though I am not crazy about the packaging of this product (it can get quite messy), I do love the even finish it gives. With the use of a good foundation brush, the mineral powder covers evenly and beautifully. I also have a mineral powder foundation that is three times the price of this one, but I end up using this way more!
4. Best Liquid Foundation - Maybelline New York Instant Age Rewind Radiant Firming Makeup - $7.22
I rarely leave the house without having a layer of this on. Not only does it cover smoothly and evenly, but, especially for us fair skinned folk, it has SPF 18! This protects your face on those sunny days and keeps your skin healthy and beautiful.
5. Best Liquid Eyeliner - e.l.f. 3 Piece Liquid Eyeliner Set - $5.86
Though I only have the eyeliner in black, I already have this pack in my Amazon shopping cart. The black goes on dark and smooth and keeps your eyes looking defined. I do have other glitter liners, and I can't wait to try e.l.f.'s line as well!
6. Best Mascara - Maybelline New York Full 'N Soft Mascara in Very Black - $4.49
7. Best Highlighter - e.l.f. Studio Baked Highlighter in Moonlight Pearls - $7.36
What I love about e.l.f.'s baked products are the way they highlight without being sparkly. Glitter all over your cheeks is something of the past, but giving a healthy and illuminated glow is exactly what you want. It gives a youthful and beautiful sheen that gets me compliments every time I wear it!
8. Best Blush - e.l.f. Blush in Candid Coral - $5.30
Before you illuminate your cheeks use this matte blush to give a rosy finish to your face. There are a few different colors to choose from, and they all come out beautifully when applied with a blush brush!
9. Best Concealer - NYC Cover Stick (3 pack) - $7.36
For those tiny blemishes or dark bags under your eyes, I always keep this cover stick handy. It goes on nice and light and is easily blended with your finger. This is a must have for at home and on the go.
10. Best for Eyebrows - e.l.f. Eyebrow Treat and Tame - $6.74
This is the perfect product to keep your brows in line. It goes on like mascara for your eyebrows, but it doesn't feel thick or clumpy. You can easily define your eyebrows in one quick swipe of the wand, and you can choose from three different colors!
11. Best for Lips - Covergirl Natureluxe Gloss Balm - $5
If you are someone who likes slight lip color, but not bold shades, this is the lip color for you. This goes on more like a balm than a lipstick, and leaves a pretty and soft color that doesn't take over your whole look. This is perfect for on the go application!
What are your favorite budget makeup products?
Thursday, April 10, 2014
One of my most recent shopping discoveries is a site called
No Rest for Bridget
. This shop has tons of adorable dresses, blouses, shorts, pants, accessories, and even little gifts (candles, books, etc). As Spring is now in full swing, you can't go wrong with many of the trendy and fashionable styles featured on NRFB. They were kind enough to send me a few items, and based on what I received, I've already been looking for more to add to my wardrobe! The quality is good and the fit is true to size. I also received a small candle from the site, which smells absolutely
amazing.
You can find so many things for such an affordable price (some under $20!) and I promise that once you go to this site once, you will continue to go back.
Check out the two items that I received:
Fleetwood Embroidered Dress
Santiago Huckleberry Candle by Voluspa
If you are looking for trendy fashion on a budget,
No Rest for Bridget
should definitely be added to your list of go-to online shops!
Tuesday, April 1, 2014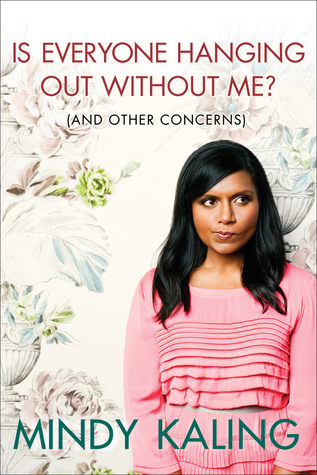 image via Goodreads
Ever since watching
The Office
, I have been slightly obsessed with Mindy Kaling. Once I got into
The Mindy Project
, however, I was hooked. This girl just gets it. She is an everyday girl who goes through everyday things, which she makes very clear in her amazing book
Is Everyone Hanging Out Without Me? (and other concerns)
. While recounting funny stories from her childhood, her climb to entertainment industry success, and her experience in Hollywood, Mindy makes you feel like these silly childhood dreams are possible. This book had me curious, excited, and amazed. It also had me laughing out loud (which is not something I tend to do while reading in my bed by myself). This is an absolute must-read for all young women (and men for that matter) who are trying to make sense of their post-graduate lives. Mindy will make you feel like your crazy thoughts, feelings, and impulses are absolutely normal. In fact, they are encouraged.
Check out this book and let me know your thoughts!
Get your copy from Amazon below!
Welcome To: